Day 2: Before the Paper Mâché Comes the Story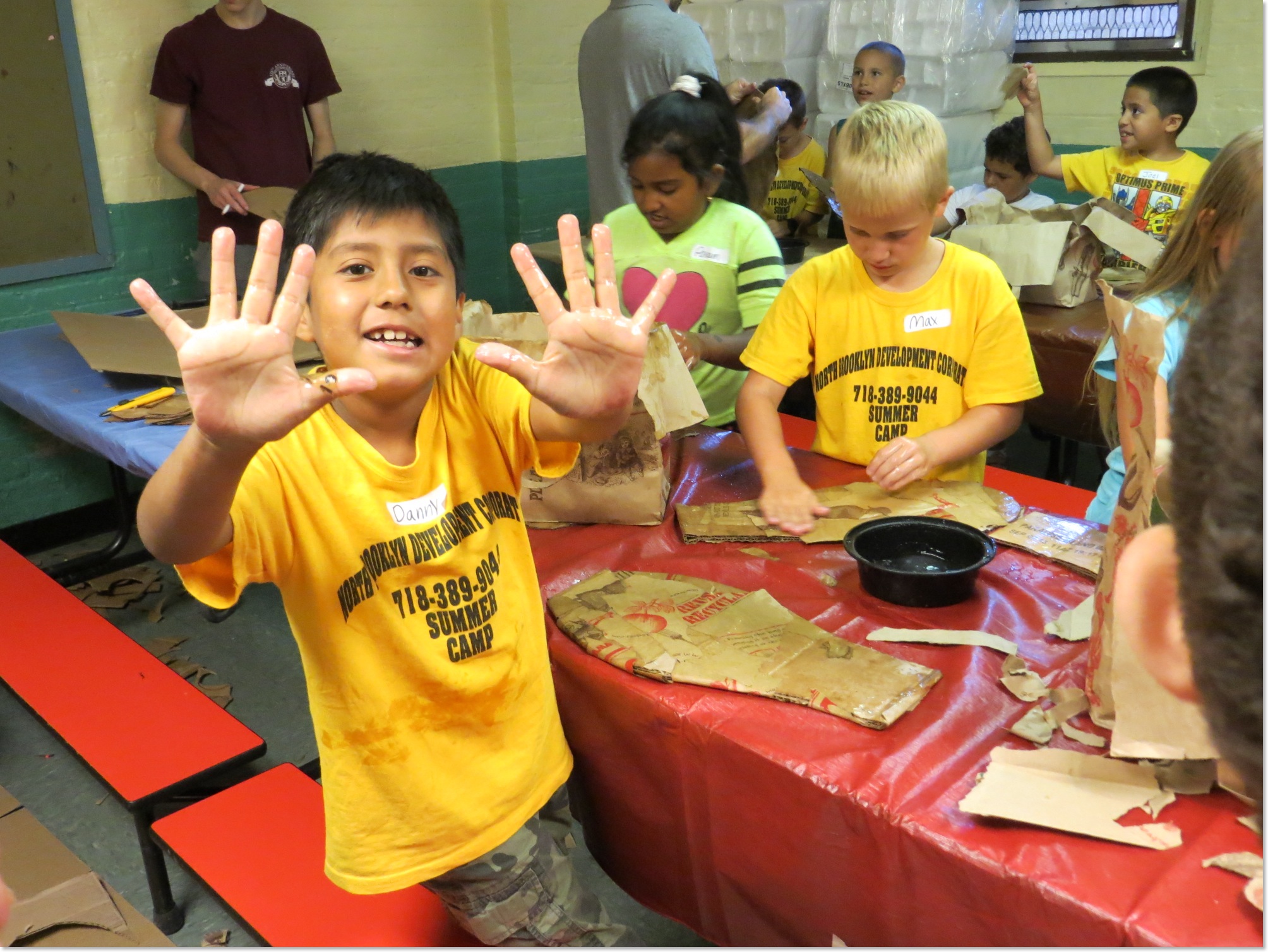 by
Heather Nielsen
"When are we going to start making the puppets?" was the eager question we were greeted with multiple times before the clock had even struck 9 on Monday morning. The sight of piles of cardboard, paper bags, and paper mâché paste reminded the returning young people of our puppet making process last year and piqued the interest of new campers as they wondered what creatures we would be creating!
Before we started to rip paper and get our hands gloopy with paper mâché, we introduced each group of young people to their section of our 2013 theme:
The Tides of Change
. Through interactive storytelling, stick puppetry, and process drama, we presented puppets that the youth will be making over the coming days to give them a tangible sense of what their role in this puppet show will be.
What's It All About?
Newtown Creek Celebration: Puppet Parade and Pageant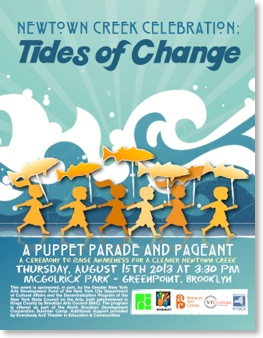 is a free, ten-session theater and puppetry project for over 80 young people enrolled in North Brooklyn Development Corporation's Summer Day Camp. Over the course of ten days, we work with youth to create an original puppet parade and pageant that explores issues relating to the pollution of Newtown Creek and the effect pollution has on the surrounding Greenpoint community. Each day, Heather, Sherry and I see four different groups of approximately 20 youth participants ranging in age from 5 to 11. During our session time, we work toward building puppets with the youth, then putting the puppets into the young peoples' hands to devise an original show based on the theme:
Tides of Change
.
Presenting Our Theme Three Ways
Storytelling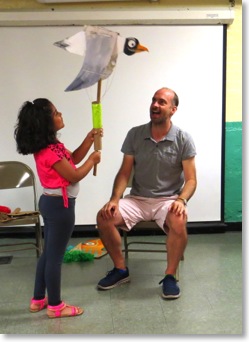 We led an interactive retelling of, "The Woman Who Fell from Sky Land", using models of the animal puppets that youth will build in this new version of how Newtown Creek and Greenpoint came to be. Taking inspiration from an Onondaga creation myth, we inserted animals that were native to Newtown Creek in our retelling. After our interactive storytelling, the young people had a chance to try out our puppet models and gave movement ideas inspired by the storytelling before they launched into paper maché with a vision of how to create the many animal characters.
Stick Puppetry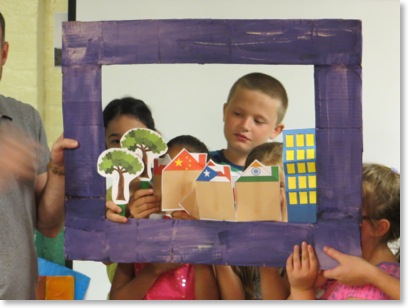 Mini-versions of buildings and trees on popsicle sticks were the storytellers for our 3rd grade group, the mini-version serving as a living storyboard. The idea of "playing" an inanimate object became clear as young people took turns animating the tiny popsicle stick puppets and sharing their ideas for how the story could end, before stepping up to the paper maché tables.
Process Drama
Our 4th and 5th graders took on roles of community members such as teachers, military personnel, artists and business owners to discuss and debate how to best spend an imaginary budget surplus in their community of Greenpoint. They took turns speaking at a mock City Council Meeting to tell their local representatives (myself, Kevin, and Sherry) what they thought the most important projects would be, laying the groundwork for the final part of The Tides of Change, where they will weigh the value and cost of neighborhood and environmental change and action.
It was a tremendous day of work and creativity, setting us up well for Tuesday's second coat of gloppy paper maché and deeper dialogue about what a good neighborhood looks and feels like.
Come and see our show!
If you would like to attend our free performance.
Visit our Facebook Event page by clicking here
. Let us know you are coming or post an encouraging comment on our event page. We hope to see you there.
Make a Donation Today!
Our crowd funding campaign is off to a great start! Thank you so much to everyone who has already contributed. We are offering lots of different perks to folks who support the project including our 2013 poster, photos of the culminating event, or a puppet from the show to take home! If you would like to make a donation, click on the widget to the right or
click here
. If you want to support the project but can't make a financial contribution, there are other ways to help out!
Visit the campaign page and click the "like", "tweet", or google plus icons to spread the word about our campaign to your friends on social media.
Post a comment at the end of this blog.
Forward this blog post to other people you think might like to hear about our work.
This event is sponsored, in part, by the Greater New York Arts Development Fund of the New York City Department of Cultural Affairs and the Decentralization Program of the New York State Council on the Arts, both administered in Kings County by Brooklyn Arts Council (BAC).