After The Storm, LGBTQ Theater Project Goes On With The Show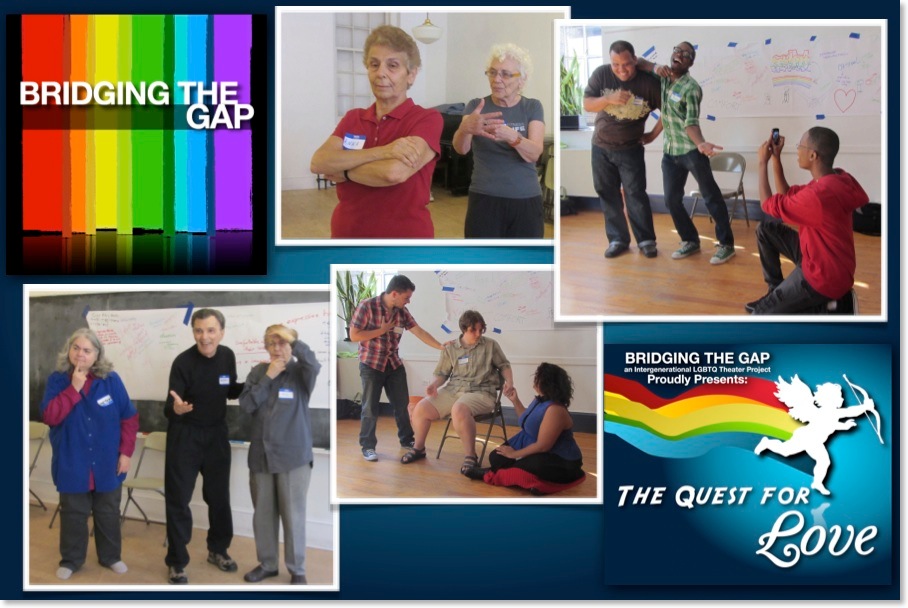 by
Kevin Ray
On Friday, October 26th, 2012, it never occurred to us that Hurricane Sandy was about to have a significant impact on our grant funded applied theater project,
Bridging the Gap
.
At that time, applied theater artists
Jennifer Houseal
,
Sherry Teitlebaum
and I were approaching the final stage of workshops with 15 intergenerational LGBTQ participants. We had assembled the group of New York City LGBTQ community members to participate in a series of free workshops for people aged 18 to 24 and aged 60 and up with the goal of building intergenerational cohesion among LGBTQ people through the creation of an original play. After several recruitment events in August, our workshop sessions began in early September, and by October 26th, we had led 7 two-and-a-half-hour workshops during which we facilitated a series of activities designed to develop group cohesion and theater skills. We led story circles, activities to explore frozen image work, and improvisation skill building games. Using playbuilding techniques, we had just begun piecing together scenes for our final performance based on the theme of "love" when Hurricane Sandy hit the Tri-State Area.
At first, we thought the storm would be a mere bump in the road, and that we would only lose one Saturday workshop session. But by the Monday after the storm, it was clear that the project was in jeopardy given the collapsed public transpiration system and the smattering of blackouts that left many areas of the city without electricity. We had no way to travel around town, we could only communicate with our grant funder via email, and we could not reach all of our group members by phone. Additionally, our performance venue, the Lesbian, Gay, Bisexual & Transgender Community Center, had no power. As the week progressed, it became clear that our performance, originally scheduled for November 10th, was not going to happen on schedule. We had to decide what to do next.
Bridging the Gap
is and applied theater project, therefore, the
process
of creating the show is as important as the final product. It is the goal of this project to use the process of creating original theater as a means to spark dialogue among members of an intergenerational group about the ways in which they are both alike and dissimilar. As the group made the journey toward a final performance, we facilitated theater activities that encouraged group members to talk to each other, listen to each other, and begin to discover ways in which they could best support each other within the community. As the week following the storm dragged on, I wondered if we might consider canceling the show, as we had already provided the bulk of the process component of the project. I thought, "We can't control Mother Nature, and she's made it impossible for us to put on our show as planned. If the
process
has equal value to the
product
, is the show really that important in light of the current circumstances in New York City?"
Bridging the Gap
is funded by two grants from The Lower Manhattan Cultural Council (LMCC). Both grants require that the project has some type of public component. Our proposed public component was the performance that we were intending to generate. During the aftermath of the storm, I spoke to my collaborators and said, "There's no power at the Center, so we can't rehearse or perform there, and the subways are coming back online in unpredictable ways so we can't meet the group members at an alternative space. Should we call LMCC and explain that the impact of the storm has prohibited the public component of the project?" We considered this option but also wondered, "How might the group members feel if we don't put on the show? Would we have to return the grant awards if we didn't put on the show? Will we, as facilitators of the project, feel satisfied that we have achieved our goals if we don't put on the show?" In light of those concerns, we moved ahead to try and reschedule the performance, not knowing if it could be arranged.
Through the generosity and flexibility of our community partners, SAGE and YES, we managed to secure a new performance date at our original venue. Once we had a date, SAGE and YES worked with us to provide additional workshop space. Then we contacted our group members and sorted out schedules, finding out who was available to rehearse when. We revamped our promotional materials and our
Facebook Event Page
. When we finally regrouped with our participants, we reminded everyone where we were at in our rehearsal process using transcriptions of the scenes from previous workshops written using video footage of the workshops before the storm.
I am happy to report that our culminating event,
The Quest for Love
, is back on track. Tomorrow night is our technical rehearsal and our performance is scheduled for Saturday, December 1st at 2 pm at the Lesbian, Gay, Bisexual & Transgender Community Center: 208 West 13th Street in room 301. The performance is free and open to anyone. For more information, visit our
Facebook Event page by clicking here
.
Hope to see you on December 1st. On with the show!
Bridging the Gap is made possible in part with public funds from the Fund for Creative Communities, supported by New York State Council on the Arts and administered by Lower Manhattan Cultural Council. Bridging the Gap is made possible in part with public funds from the Manhattan Community Arts Fund, supported by the New York City Department of Cultural Affairs in partnership with the City Council and administered by Lower Manhattan Cultural Council. The project is offered in partnership with SAGE (Services and Advocacy for GLBT Elders) and YES (Youth Enrichment Services). Additional support by Everybody Act! Theater in Education and Communities.